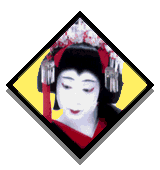 Thanks
Thanks for stopping by and I hope you enjoyed your stay! Please sign my guestbook near the bottom of my Bio page. Each and every one of my visitors are important to me!!! I really enjoy building webpages. I try my best to keep them in working order. If you do find a dead link please email me so I can fix it! I hope you come back soon!!! Until then....Take Care :)

Special Thanks
To my friend Intruder...Without who's help I would not have even known what a signature box or a homepage were!
Intruder's Site

Linda!!!
I can't begin to thank you enough for the great article you wrote about me! I feel like I really made the big time! I still can't believe you chose little old me...Linda's article in Net4TV...

China: It's Not Just a Country Anymore


Please visit her site and meet this wonderful lady!
lindadanderson.com






FAIR USE NOTICE: This web site may contain copyrighted material whose use has not been specifically authorized by the copyright owner. This page is operated under the assumption that this non-profit use on the Web constitutes a 'fair use' of the copyrighted material as provided for in section 107 of the US Copyright Law




Home